Monday July 6, 2015 at 12:00 am |
Publisher: HarperCollins
Published: April 28, 2015
Copyright: 2015
Pages: 295
Form: Paperback
Series: Blessings Series (6)
Author: Site | Facebook | Twitter
Buy The Book: B&N | Book Depository
NAACP nominee and bestselling author Beverly Jenkins returns to Henry Adams, Kansas–an unforgettable place anyone would want to call home–with a story of family, friends, and the powerful forces from our past that can irrevocably shape our future.


Mayor Trent July and his wife, Lily, are enjoying life as newlyweds and embracing the challenges and joys that come with being adoptive parents to two wonderful boys. But fatherhood has inevitably forced Trent to think about his own birth mother.  Raised by his grandmother Tamar–and, in many ways, the good people of Henry Adams–Trent was blessed with a childhood full of love.

But now he can't help wondering what happened to the scared teenage girl who gave birth to him. And questions that he's never voiced are now begging to be answered: Who was she? Is she still alive? Why didn't she want him?

Trent has always believed that no good comes from dwelling on the past, especially when you have a loving family, a strong community, and folks who depend on you. But when the past comes to Henry Adams, Trent has no choice but to face it–and the woman who left him behind. The truth will shake his very being and everything he thought he knew about life, love, and the bonds that hold families together… but can also tear them apart.
My Thoughts
I don't quite know how to describe my affection for the Blessings series by Beverly Jenkins, but I just love re-visiting Henry Adams and catching up with all its residents, old and new.  And the drama that goes down in this one small town reminds me so much of my childhood town that it's scary!
Being an adoptive parent to two boys has both challenged and pleased Mayor Trent July.  But it has also made him wonder about his own birth mother and why she gave him up.  So when she arrives in Henry Adams after 45 years, Trent's world is turned upside down, and old town secrets are revealed.
These novels just get better and better.  While Trent is trying to forge a bond with his new found mother, Bernadine is still dealing with her irresponsible sister and the crazy owner of the neighboring town, Franklin.  She is also busy settling in new residents Bobby, KiKi, and their baby twins, while trying to find a place for residents fleeing Franklin under the tyranny of Astrid Wiggins.  She has a lot on her plate, but with help from Trent and the rest of the community, she seems to handle it all with poise and grace.  I also was ecstatic to see her relationship with reformed playboy, Malachi July, deepen.
Between Trent and all of his family drama, Bernadine juggling all of the town problems, and the new residents settling in, For Your Love was an exciting and engaging installment.  I can't wait to see what is next for Henry Adams and it's residents.
About the Author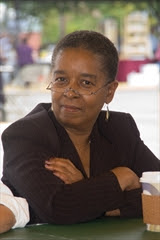 Beverly Jenkins is the author of thirty historical and contemporary novels, including five previous books in her beloved Blessings series. She has been featured in many national publications, including the Wall Street Journal, People, the Dallas Morning News,Vibe, and many other publications.

Find out more about Beverly at her website and connect with her on Facebook.
---
Filed in: Black Fiction, Reviews Tags: Black Fiction, Review

7 Responses to "Review: For Your Love by Beverly Jenkins"